How can Uninstall WinRAR Thoroughly from PC
Always get an error message when try to uninstall WinRAR? Or the program usually refuses to be removed from Windows? This article will be helpful to fix the program's removing problems, and you also can get an effective way to remove it smoothly from the computer.

Program overview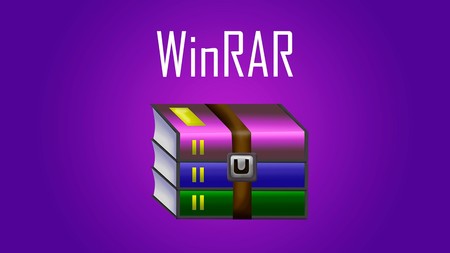 Developed by Eugene Roshal of win.rar GmbH, WinRAR is a file archiver utility available for Windows PC user. It allows users to create and view view archives compressed in RAR or ZIP file formats, and also supports to create archives in these formats.
Problems of removing WinRAR from Windows
Additional notification appears and stops the removal when try to uninstall WinRAR on the computer
Computer system does not allow you to uninstall WinRAR and states that the file is opening or being used in another program
The WinRAR installation also bring other unwanted apps being downloaded and installed on the computer, and people have to spend a lot of time to remove them completely when uninstall WinRAR
Associated files and registry keys of WinRAR cannot be cleared thoroughly with the program
Some download resources online will also provide other sponsored apps for download acquiescently when you download an application, so you should pay more attention to the program install instruction, and disable those check box which will install other softwares at the same time.
Effective guides to uninstall WinRAR thoroughly from Windows
Traditional way to remove WinRAR manually on Windows
1.Stop WinRAR running on the computer
Right-click on the task-bar, and select Task Manager to open it
Check the running processes on the list, and stop the one belonging to WinRAR
Exit Task Manager, and right-click on the Windows icon in the bottom left corner of the screen
2. Uninstall the program
Select the first item Program and Feature or Apps and Features, and you will be able to open the uninstall window in Control Panel
Scroll down and find WinRAR on the list, and highlight it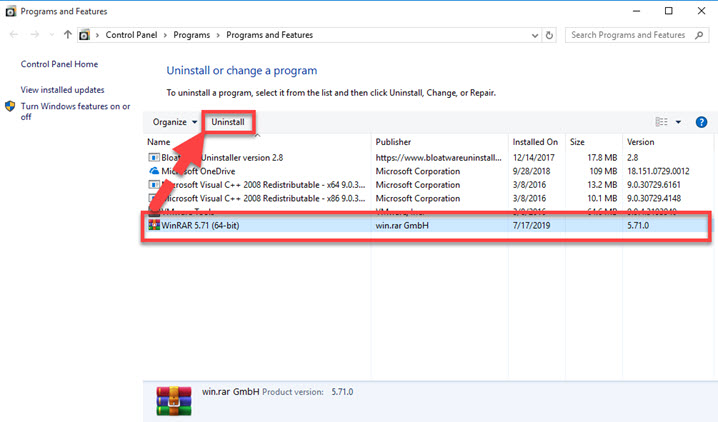 Click Uninstall on the menu, and click Yes when you receive a message "Continue with uninstall WinRAR?"
Quickly, the program removing process will be activated and finished in a short time, and you will see WinRAR disappear from the programs list
After that, you should exit all windows and restart the computer
When back to the computer desktop again, type "regedit" in the search box on the task bar, and hit Enter to open system's Registry Editor
Expand the registry groups inside, check all of items one by one, and then delete those registry groups or entries related to the WinRAR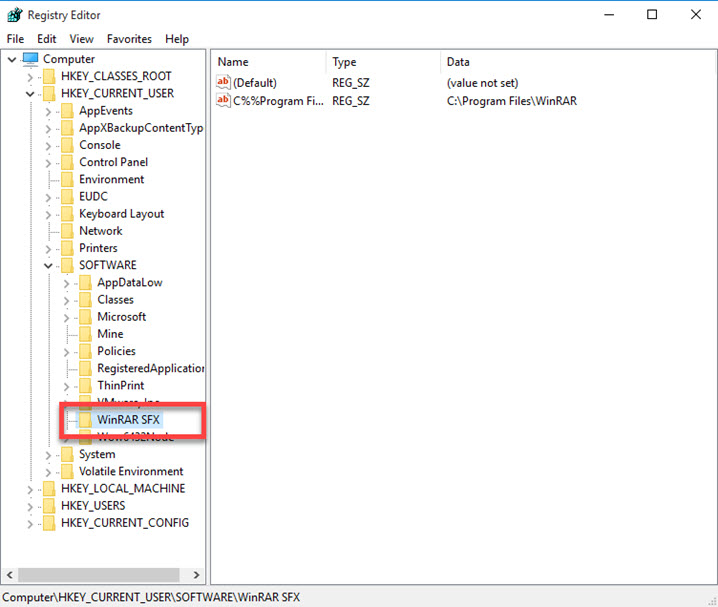 Back to the search box again, and search for WinRAR on the whole computer, and make sure it has been totally removed form the computer
If you receive a message which states that the file is open by other program, you should firstly close other running programs on the computer, and then disable the WinRAR via the Task Manager

How can get dedicated remover to uninstall WinRAR
Taking a professional uninstaller to manage the app uninstallation on computer is a popular way in nowadays, people can get a faster and complete removal via using this type of utility to perform a strong removal for the application. So, it is also a smart choice to take a sophisticated tool to help you uninstall WinRAR and other bundled programs.
Launch a registered Bloatware Uninstaller on the computer
Select WinRAR on the interface, and click Run Analysis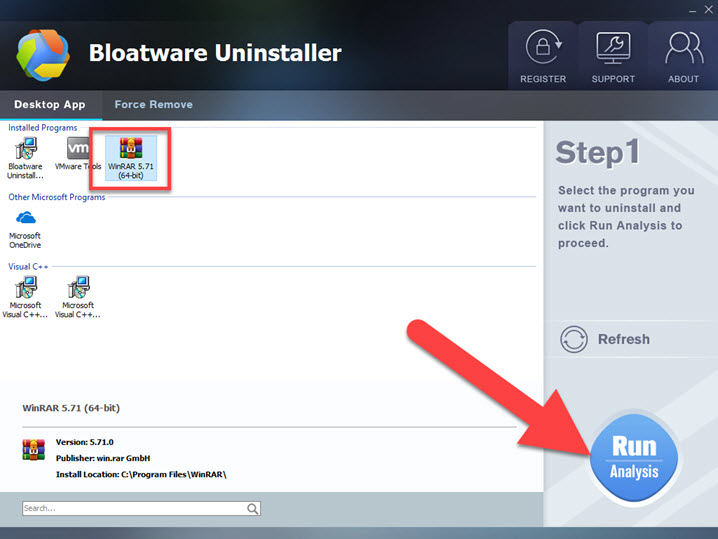 Then all of associated files will be detected and displayed on the list, and you should click on Complete Uninstall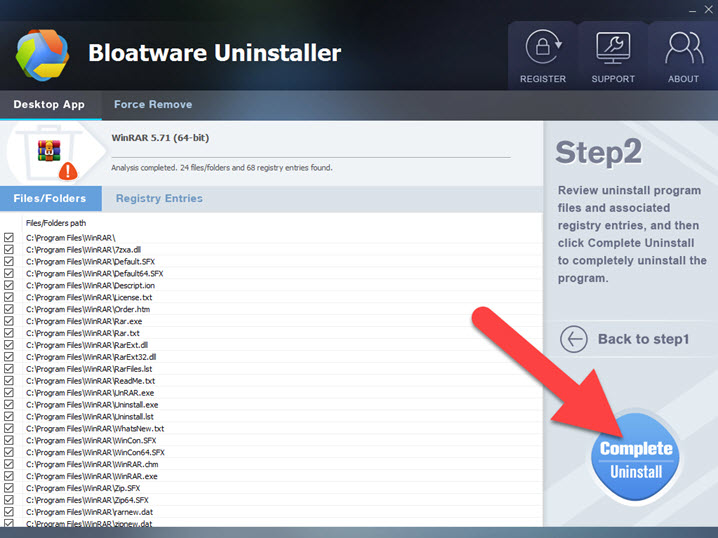 Click Yes to confirm the app removal, and click Yes when it asks you whether continue with uninstall WinRAR
When finish the removal, continue to click on Scan Leftovers button, and then delete all of stubborn files on the PC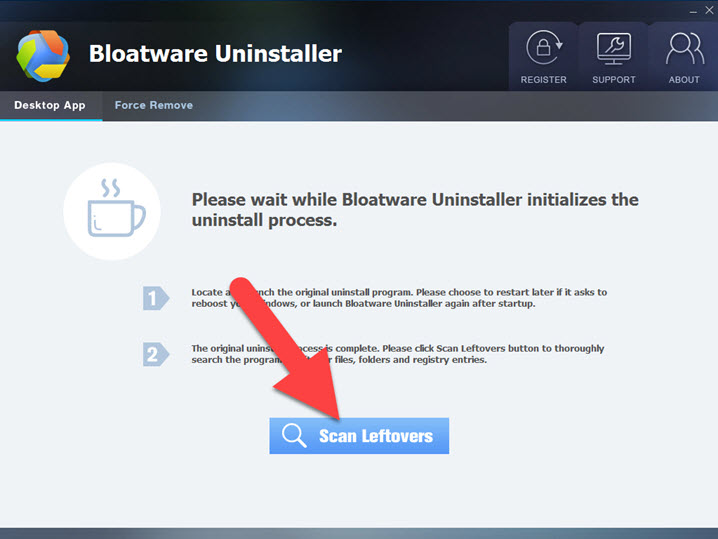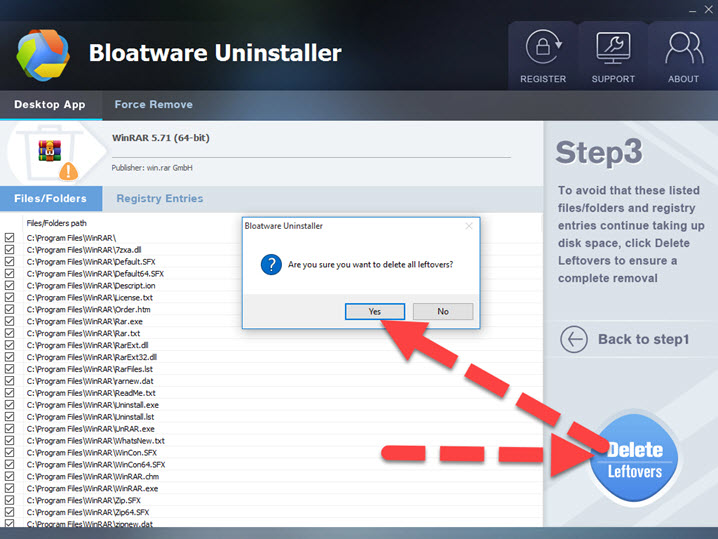 Last but not least, close all windows and programs, and reboot the computer. Then you will be able to uninstall WinRAR thoroughly.