How to Uninstall EdrawMind from Windows PC Completely?
Wondering how to uninstall EdrawMind for Windows easily? Wondering how to get rid of EdrawMind and all relevant files completely? Wondering how to remove any unneeded apps easily and completely? Then you can get answers for these questions. By the end of this post, you can clearly understand how you can uninstall EdrawMind or any other apps like a pro.


What is EdrawMind?
EdrawMind is a superb and popular mind mapping and brainstorming app that can help you quickly organize your thoughts, ideas, goals, speeches, articles, businesses, and more plans. It can be said a great personal development tool for anyone improving productivity, solving problems, reducing task relevant stress and being well organized, no matter who you are, teachers, speakers, students, presenters, or anyone who would like to easily organize themselves and their working and driving better results using mind mapping tool. So, EdrawMind is an optimal choice if you need mind mapping and brainstorming for making life and work become better.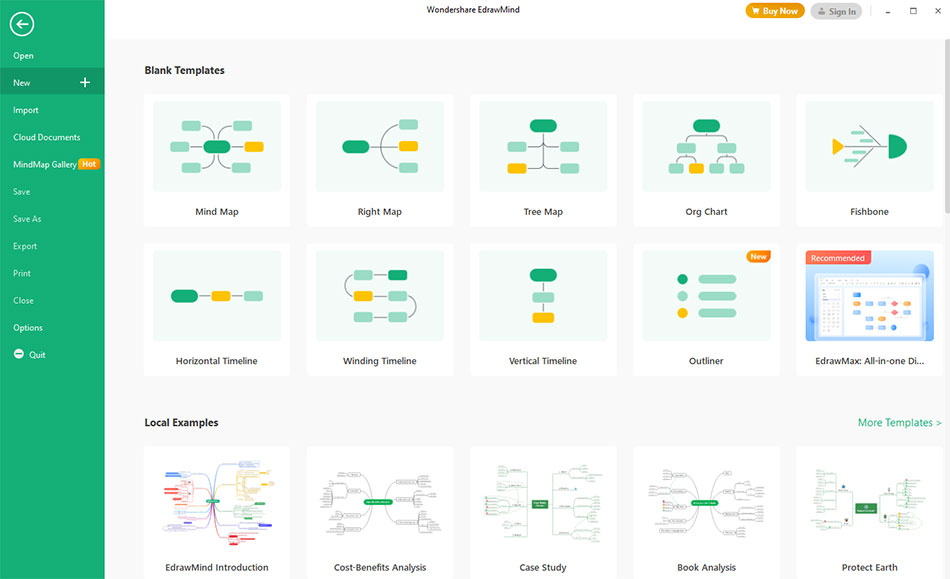 What you can do with EdrawMind:
It helps you clean up your mind, clearly know those things you have to remember and do thereby reducing those things' relevant stress
It allows you to well organize all works or tasks that you must to do, want to do, and somethings you may choose to do if the time is enough.
It helps express your ideas and draws out your mind maps to help you can better accomplish your working tasks or personal goals.
It helps you to get all great ideas into you head quickly, change the way you think and brain storming.
It helps you improve your personal productivity and effectiveness at learning and working.
It helps you analyzes your current status; clearly lists the problems you encounter and decisions you have to make.
It allows users to share a workspace and better collaborate with their teams. You can decide which people can see your shared thoughts, ideas, tasks, and more.
It helps you have a lot of awesome ideas and a lot of new things that you want to do.
It helps you succeed in performing brainstorming for creative and detailed problem solving.
It helps you easily start mind mapping and clearly figure out the underly drivers of the problems you've encountered.
It helps you change your mental approach to deal with issues, get more ideas, get thought well organized and make everything fundamentally different.
It helps you break down the complex tasks thereby increasing productivity.
Methods to Completely Uninstall EdrawMind from Windows
We have two methods here; you will get the detailed steps to uninstall EdrawMind in manual way and in a professional uninstaller tool.
Method 1: Uninstall EdrawMind on Your Own
1. Right-click the Start menu and click Task Manager from the pop-up menu options. In the Task Manager, click CPU tab > select the EdrawMind program and click Close or End Task.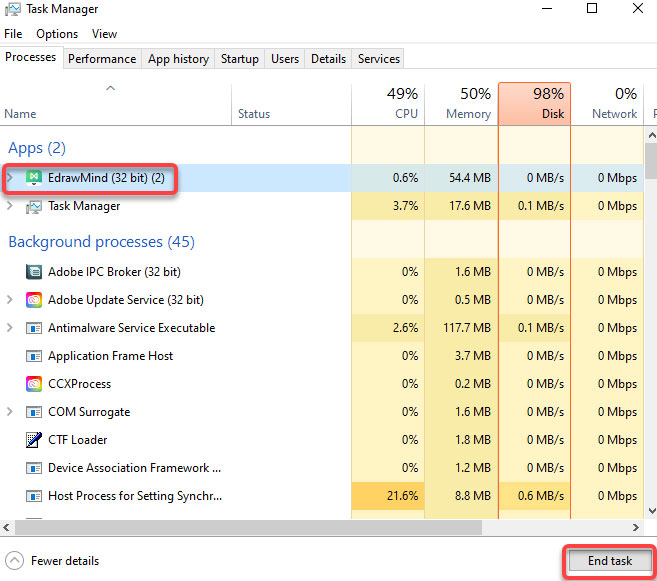 2. Click the Start Menu > find and open the EdrawMind app folder > right-click on the EdrawMind app > click Uninstall.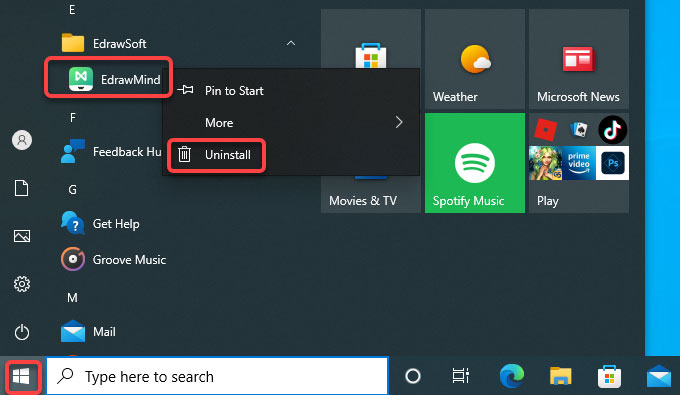 … or you can right click the Star menu > click Apps and Features.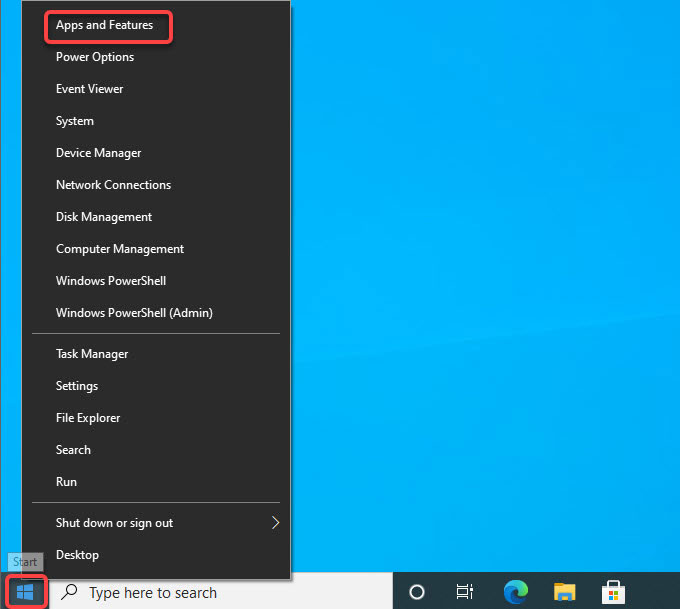 3. In the Programs and Features or Apps & Features window, click or right-click the EdrawMind program that you are looking to uninstall > click Uninstall.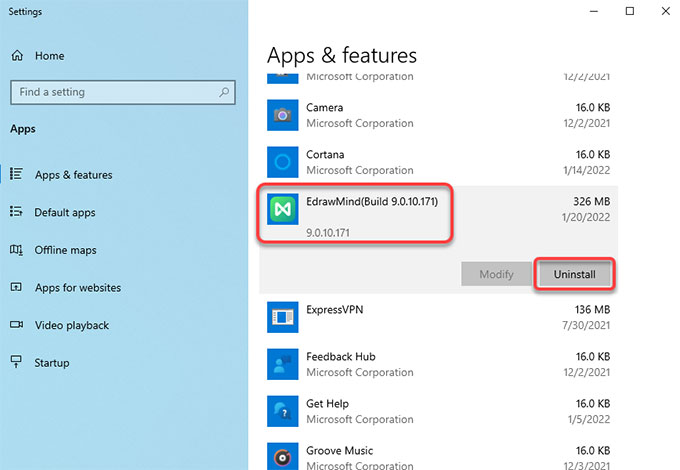 4. Choose a reason tells why you want to uninstall EdrawMind, and then click Continue. Next, you need to follow the pop-up prompts to remove EdrawMind from your Windows PC.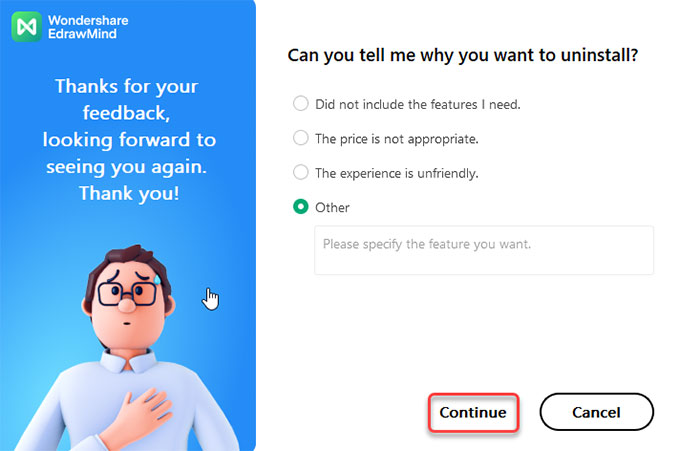 5. Now, we need to find and delete all leftovers associated with the target EdrawMind program. And we will start with opening Registry Editor. Press Windows + R keys together to open Run, enter regegit in the open box and press Enter key.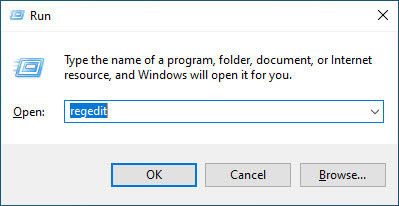 6. From the Registry Editor window, click Edit > click Find… fill in EdrawMind > click Find Next. From the search result, find and delete files relevant with the EdrawMind program.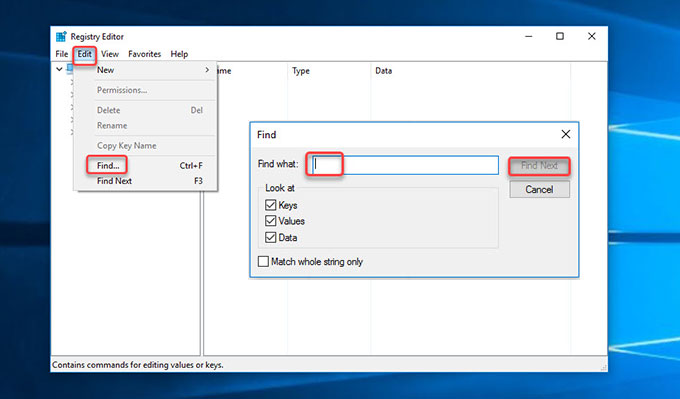 7. Once done, Restart your PC.
Method 2: Remove EdrawMind in Bloatware Uninstaller Tool
1. Launch Bloatware Uninstaller >click the EdrawMind program that you are ready to uninstall> click Run Analysis.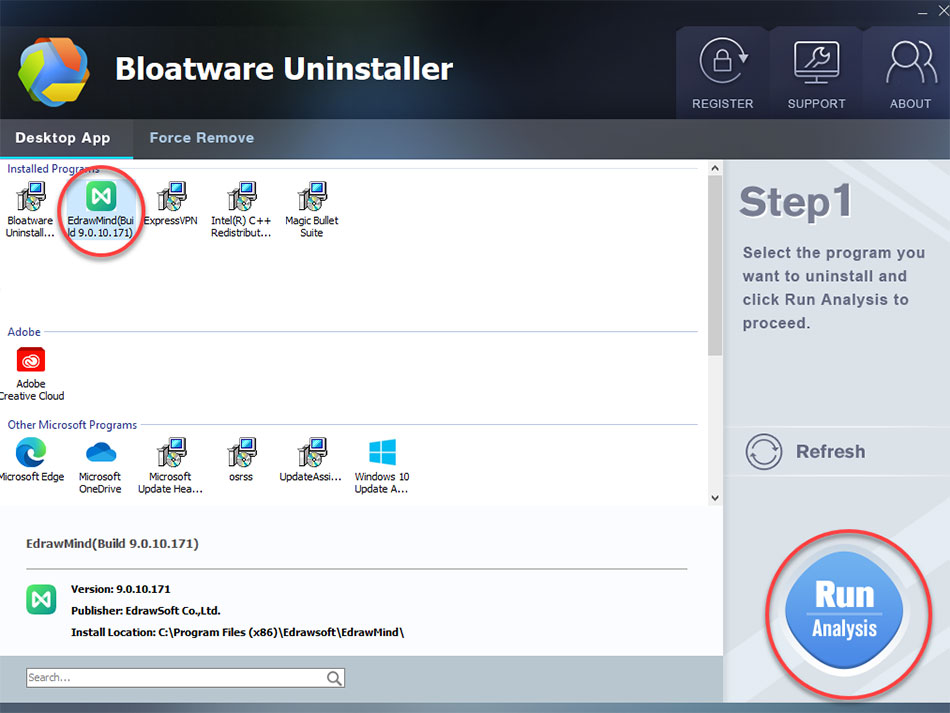 2. Click Complete Uninstall > click Yes to confirm that you would like to uninstall EdrawMind from your PC right now.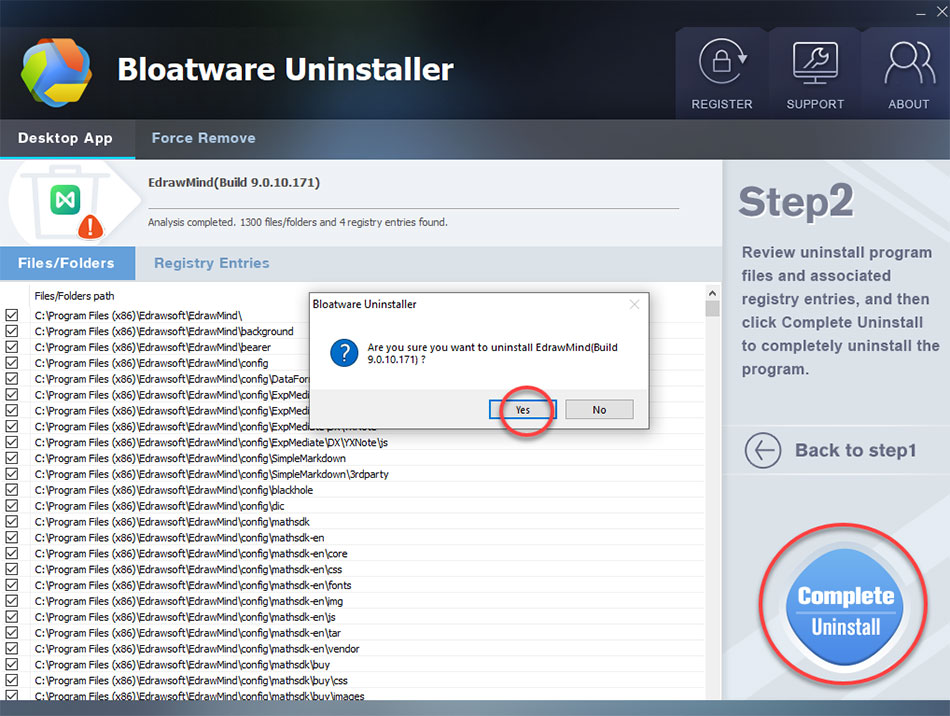 3. Please choose a reason for why you want to uninstall EdrawMind, and then click Continue to proceed with the next step.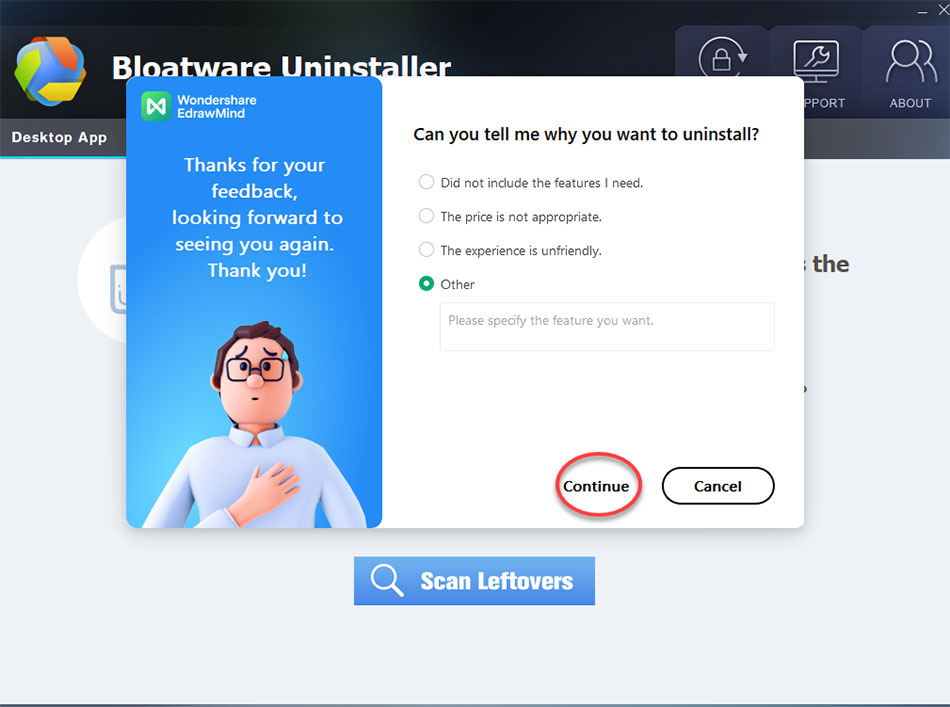 4. Check Remove all the effect resource files if you want to, and click Remove button.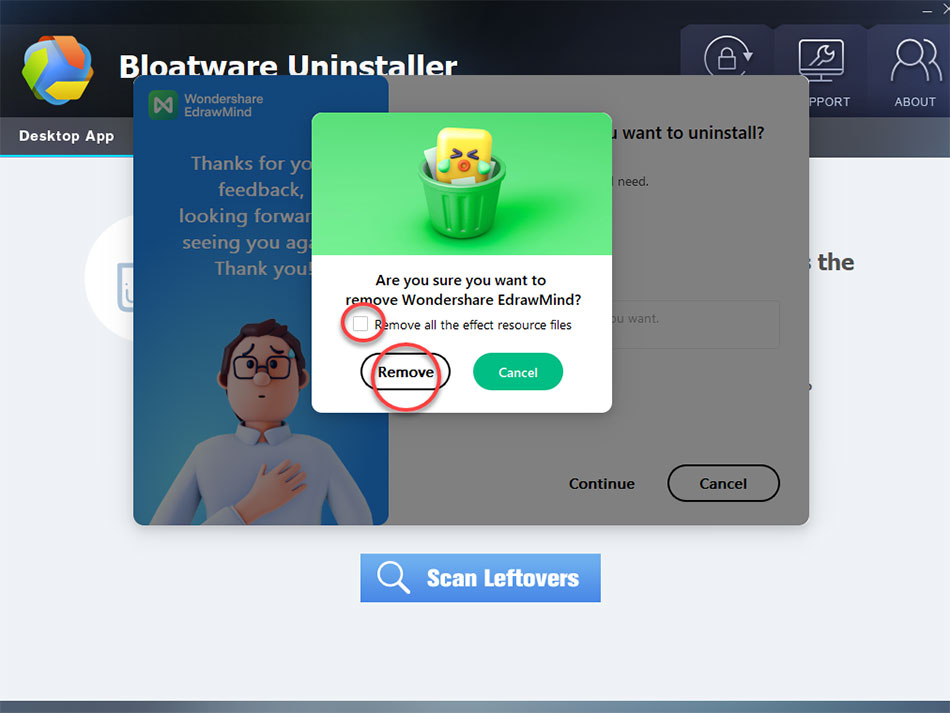 5. EdrawMind is uninstalled, click X to quit this page. And the nextup is to clean out all leftovers, so click Scan Leftovers.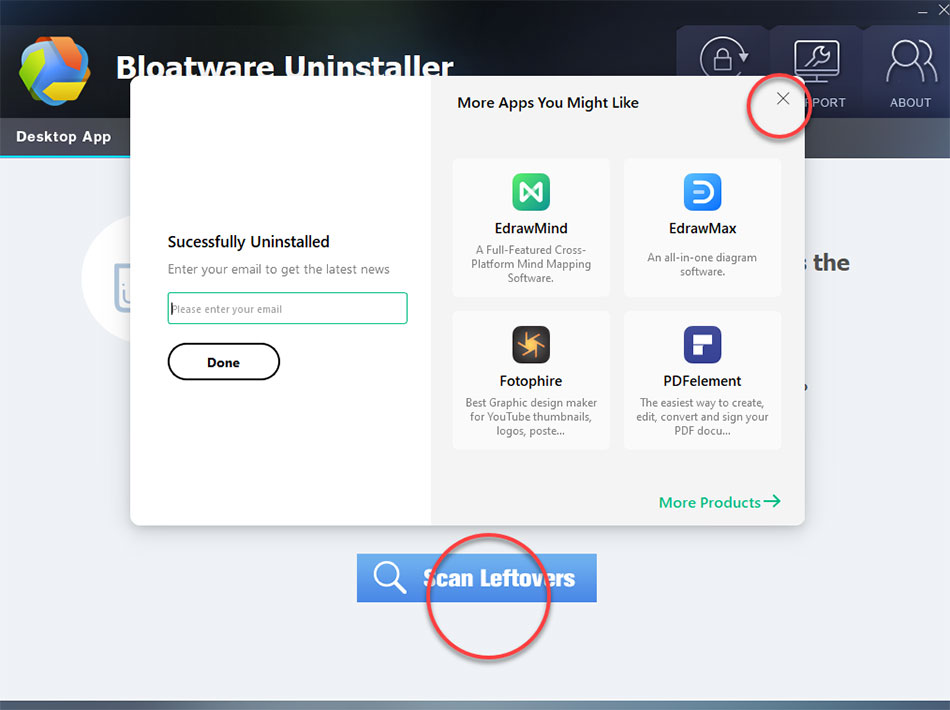 6. Click Scan Leftovers to clean out leftovers from your computer. Click Delete Leftovers > click Yes to make sure that you want to delete all leftovers related with the EdrawMind program.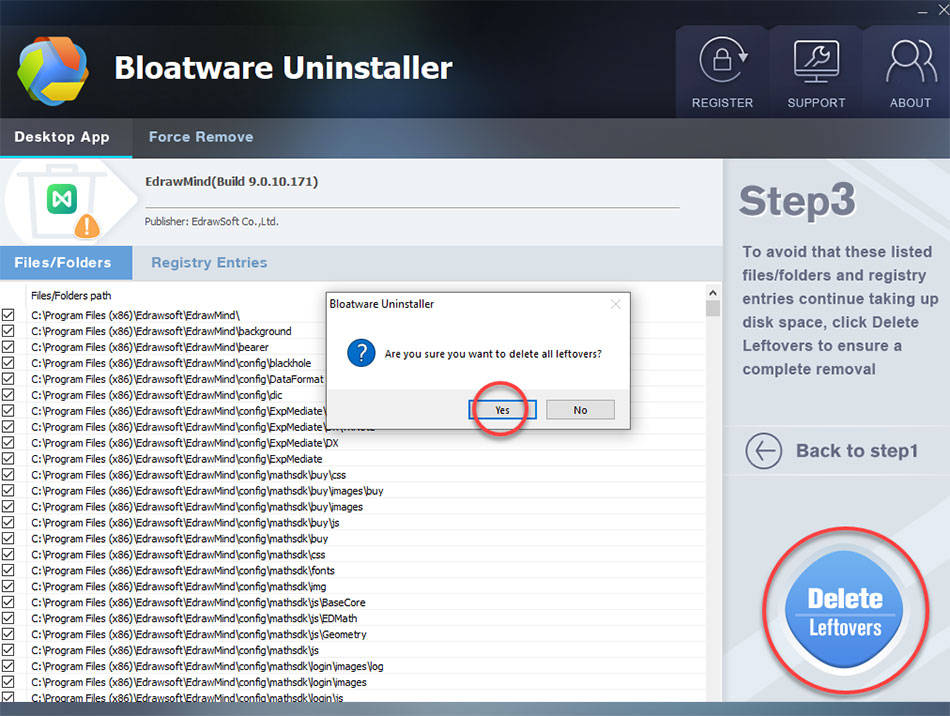 7. All leftovers have been completely removed, click OK and click Back to step 1 to check. And then Restart your computer to apply the change.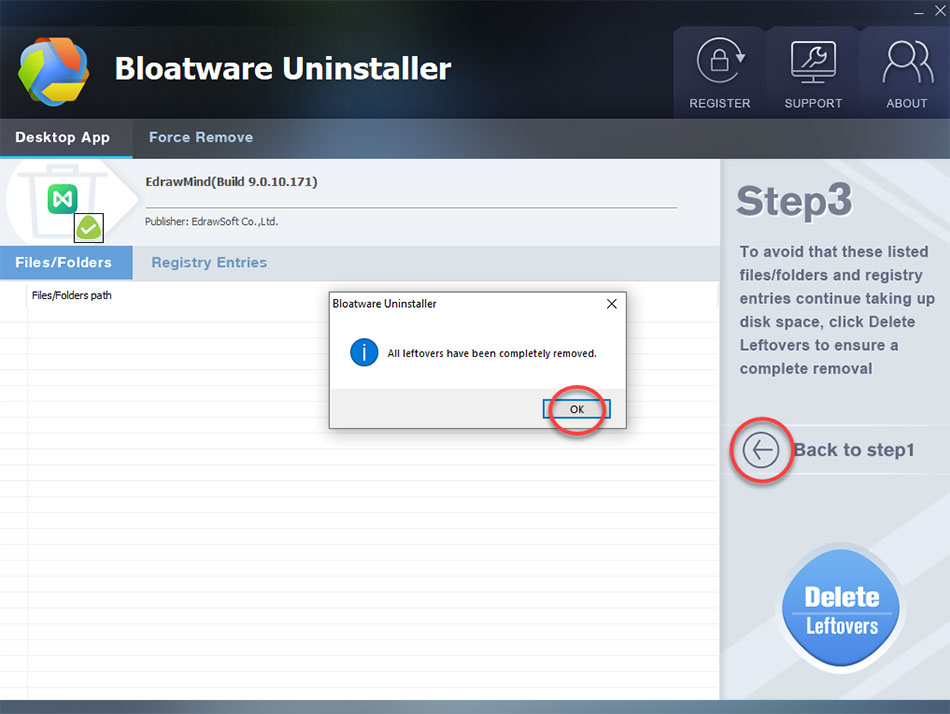 Also: Refer to a simple video guide regarding how to uninstall EdrawMind with Bloatware Uninstaller.
Conclusion
Till now, you may have found out the answers to uninstall EdrawMind completely. No matter which app you want to uninstall, you can follow the similar methods to remove it. And for those users who want to remove any unwanted apps with ease, then using a professional uninstaller tool will be a superb choice. At here, if you want to use the professional Bloatware Uninstaller, then you can click the following button to get started right now.