How to Completely Uninstall Brave from Windows?
Get to know two different methods for popular browser uninstallation and use it to uninstall Brave web browser completely. Know how to get rid of the Windows programs as well as relevant components successfully. Save you time and power directly from uninstalling program to deleting files.
This article tells you everything that you as a Windows computer user needs to know when it comes to uninstall Brave or other programs in person. Learn how you can thoroughly uninstall a program and delete leftovers from your Windows. So let's start figuring out now.

Brave Overview
Brave is a web browser based on the blockchain, aims at realizing compelling fast speed, security and privacy. In most cases, it will not merely stop all ads from popping-up on the web, but also allows users to select to block scripts as needed. Moreover, Brave promise that every user has the chance to get a percentage of the revenue of watching ads, this has been not happed on other web browsers so far.
Brave web browser comes with simple layouts, each new tab is downloaded with elegant wallpaper. On the right side, you can see the time, on the left side, you will see the number of blocked ads & stopped traffics, and how much time you've saved. So, with Brave web browser you are able to take back control of your privacy. Next, refer to what features that Brave carries out as followed.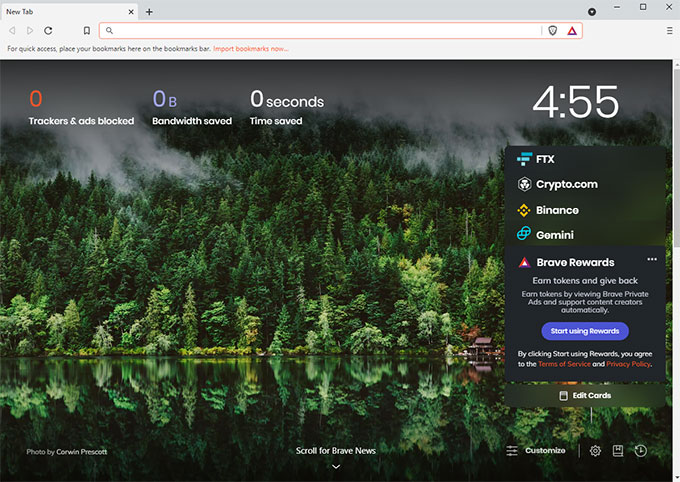 Brave focuses on privacy, delivers users with the powerful Brave Shields in order to protect their privacy in real time. Brave Shields can block all ads and stop trackers from following you across the web, this also mean that you can increase your browsing speed with it.
Brave provides superb fast Internet. Brave browser claims it can provide users up to six times faster than other current popular web browsers on both mobile and desktop devices. If you want to browse anything on the web at a warp speed, then the Brave web browser can cater you need.
Brave comes with Tor, which is responsible for hiding users' history, masking users' locations, and routing users' browsing through different servers, and encrypting users' connections to increase anonymity.
Brave is integrated with the IPFS, which is a peer-to-peer hypermedia protocol capable of bringing out much faster, safer, and more open web experience. IPFS allows you surfing online without having to worry about censorship from outside influences. Furthermore, IPFS allows users to download all wanted content through a content hash although the content is censored by nation-states.
Brave rewards every user. You can get a certain percentage of rewarded revenue if you browsing ads with Brave web browser. Brave Rewards make it come true; your attention is valued because you will get corresponding amount of BAT in return.
How You Can Uninstall Brave from Your Windows Computer?
Do you want to become confident in uninstalling a Windows program? Do you want to learn how to uninstall browsers, games, programs and much more? If you are looking to know how to uninstall a program on your PC completely or need a tool to help you, then this is the guide for you!
Pick up the two provided methods here to be able to uninstall Brave through 2 different methods. First method will help you know how you can uninstall a program manually; and the second method will make it much easier to uninstall a program than you ever could. By the time you finish this guide, you will be absolute pro at uninstalling!
1 Manual Method to Remove Brave
Refer to the step-by-step manual way to uninstall Brave web browser from Windows computer. To start a smooth and uninterrupted uninstall of the Brave web browser program on your computer, there is a simple thing need to be done at first. This requires you should close the Brave program and stop all its relevant activities from running in the background. So, let's get started with the most simple step right now!
Step 1: Launch Windows Task Manager on your PC. If you are on Windows 10, you can right-click the Start menu > select Task Manager from the pop-up menu options. If you are on Windows 7, click the Start menu and open Task Manager directly. However, if you are on Windows 8 or 8.1, you need press Windows + X key to launch the Quick Link Menu and select Task Manager.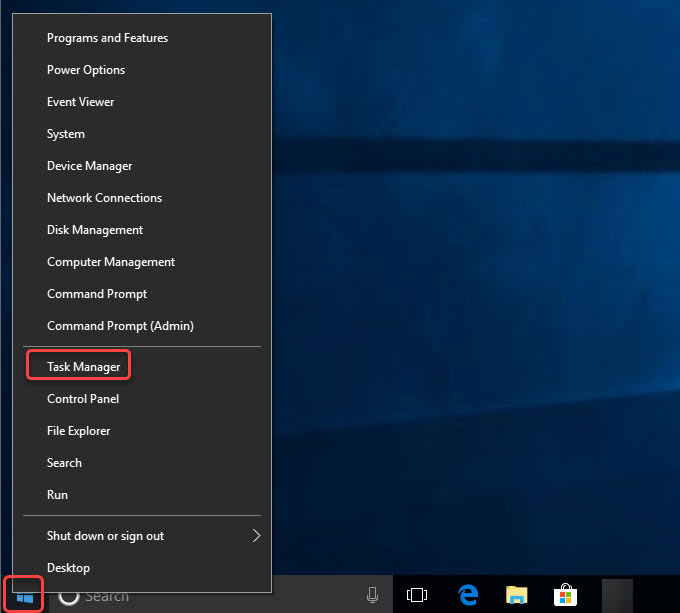 Step 2: When the Windows Task Manager is opened, select the Brave program and click End Task/Close.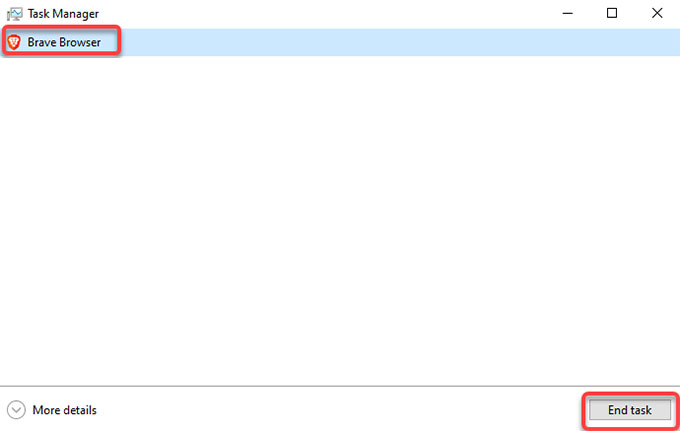 Step 3: Now, we need to open Programs and Features or Apps and Features from the Start menu. Right-click the Start menu > select Programs and Features or Apps and Features on the top of the pop-up menu.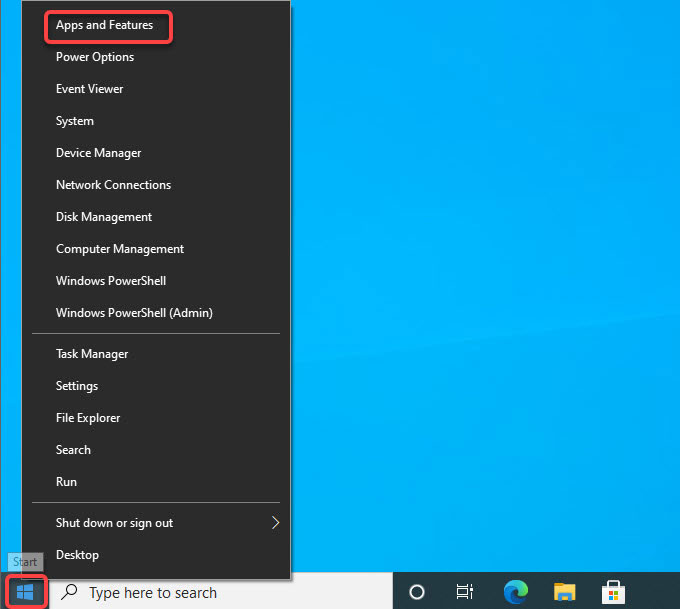 Step 4: Now, you are looking at the Uninstall or change a program page, it is the right place where you can select the Brave program to uninstall. Next up, scroll up and down to locate at the Brave program > right-click on the Brave program > click Uninstall.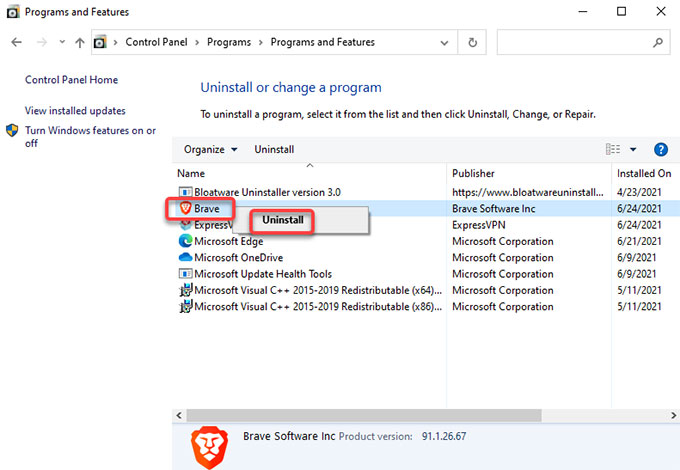 For Windows 10 computer, you are looking at the Apps & features page, left-click the Brave app > click Uninstall.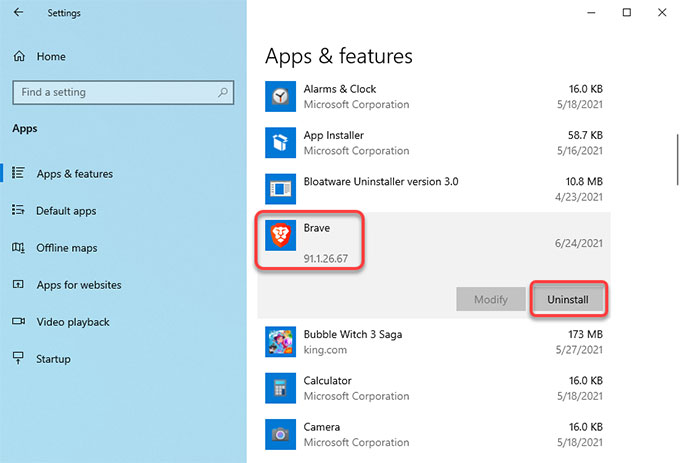 Step 5:  Check the option if you would like to delete your browsing data. Click Uninstall to confirm that want to remove Brave right now. Next the Brave setup wizard pops up, just need to follow the pop-up prompts to uninstall Brave from your computer.
Step 6: It is the time to get rid of Brave leftover files. Press Windows + R keys together to open Run > enter regegit in the open box and press Enter key.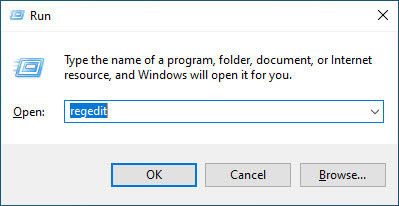 Step 7: Click Edit > click Find… fill in Brave name > click Find Next. In the search results, find out and delete files associated with the target Brave program. If you are not sure if you can delete the Brave files in person, don't try it. Because any wrong deletion of system files probably carry out more troubles.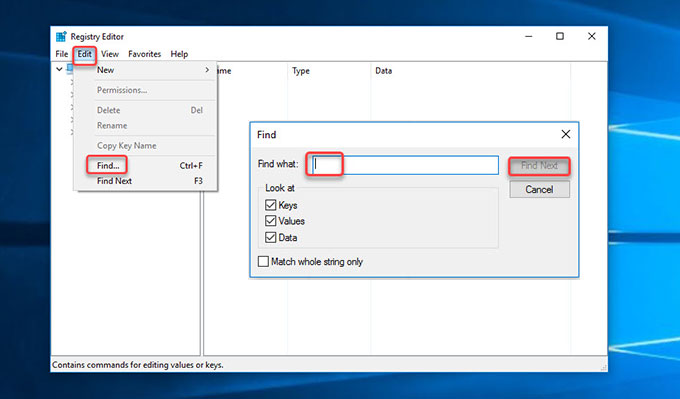 2 Uninstall Brave Through Bloatware Uninstaller
Refer to how Bloatware Uninstaller makes it easier to uninstall Brave. Several steps included.
Step 1: Launch Bloatware Uninstaller > select Brave program > click Run Analysis.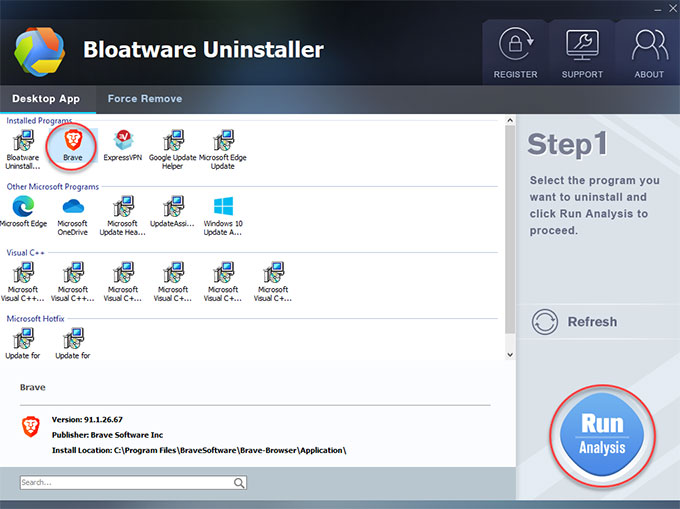 Step 2: Click Complete Uninstall > click Yes to make sure that  you want to remove Brave program from your PC.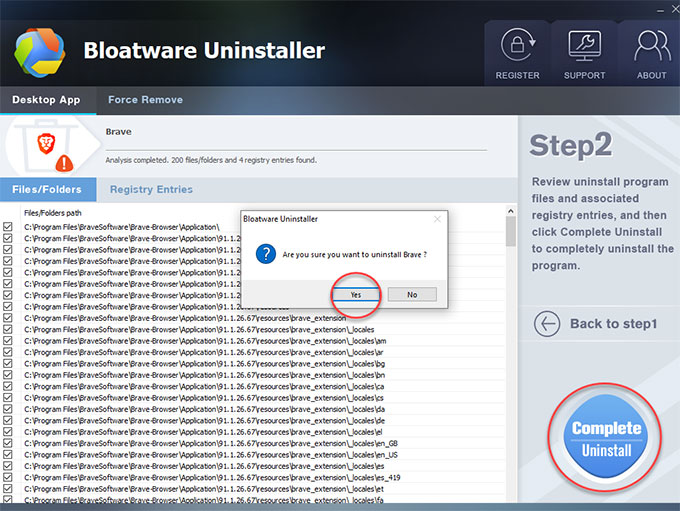 Step 3: Check the option to delete your browsing data if needed. Click Uninstall button to confirm that you are ready now to uninstall Brave program and all of its components from your PC. When the Brave uninstallation is done, click OK to quit the uninstall page. Click Scan Leftovers to clean out all leftover files and registry entries relevant with the Brave program.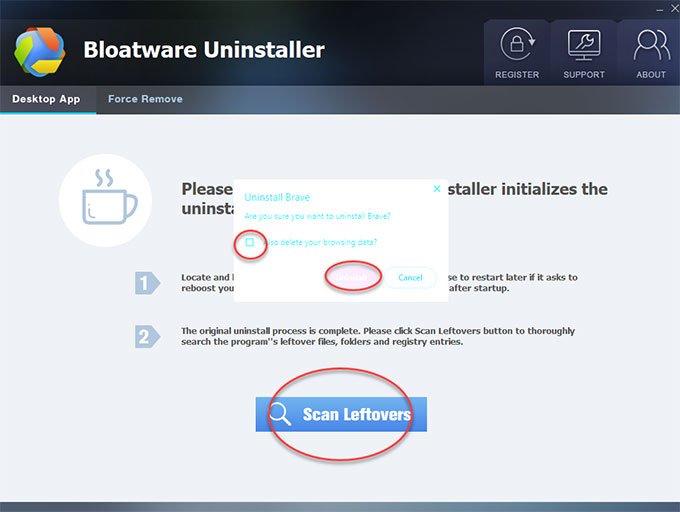 Step 4: Click Delete Leftovers > click Yes.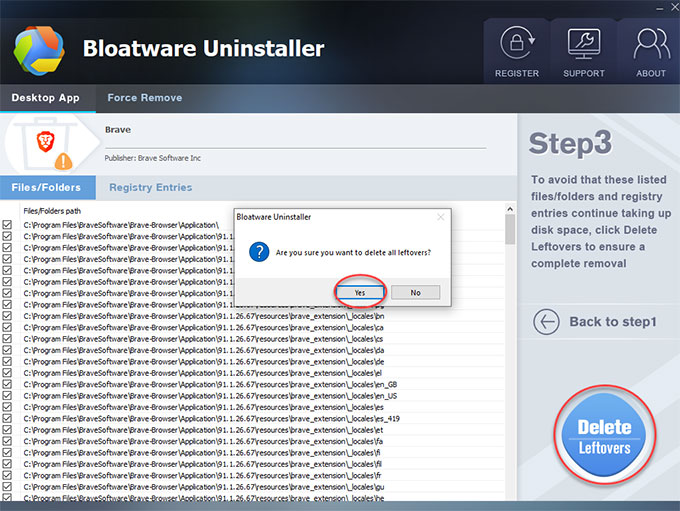 Step 5: Finally, all Brave leftovers have been successfully removed, click OK to quit Bloatware Uninstaller. And then Restart your PC to make the change.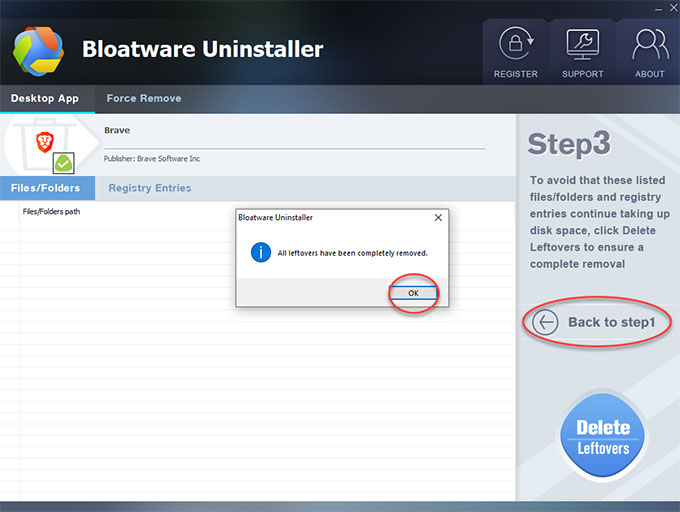 Also: Refer to an easy video tutorial to uninstall Brave automatically:
Conclusion
The best part? Bloatware Uninstaller is one of the easiest to use uninstaller tool to uninstall Windows program right now. It doesn't matter if you have no Windows experience or are unfamiliar with the Windows program uninstall. By using Bloatware Uninstaller tool, you can uninstall Brave and any other programs through just a minute.
So what are you waiting for? Jumpstart your uninstalling journey and take advantage of the optimal uninstaller tool named Bloatware Uninstaller to troubleshoot all the issues you encountered when tried to uninstall Brave.