Completely Remove IObit Malware Fighter Program – How to Guide
As an advanced malware & spyware removal utility, IObit Malware Fighter detects, removes the deepest infections, and protects your PC from various potential spyware, adware, Trojans, keyloggers, bots, worms, and hijackers. However, many users have searching for the most effective way to finally remove IObit Malware Fighter from PC.

In this page, if you don't know how to fully uninstall IObit Malware Fighter without Control Panel or you have difficulty in removing it, please follow the tutorial that proves to be a 100% complete removal!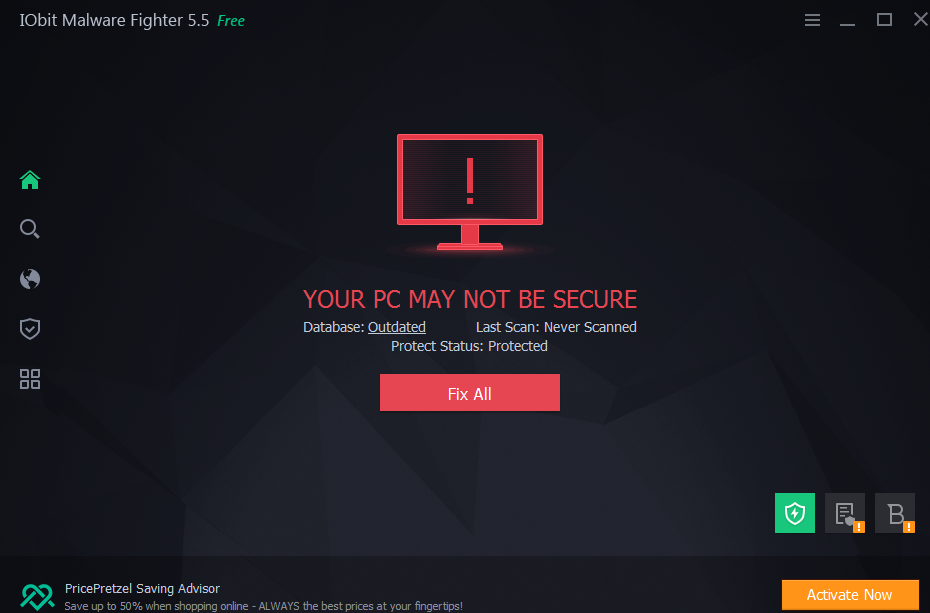 We've met all kinds of problems then remove things from Windows as we tested, but still some cases happened during the daily use of other people like:
IObit Malware Fighter does not appear in the program list of Add/Remove Programs
The uninstaller of IObit Malware Fighter cannot completely remove all associated files
There is some software that is not compatible with IObit Malware Fighter 4.1.0.2246
There are many remnants left in the registry and hard drive
The .dll, .sys or other files shared with other software are deleted
So be careful when you doing a uninstall, follow the guides here to completely remove IObit Malware Fighter as possible as you can.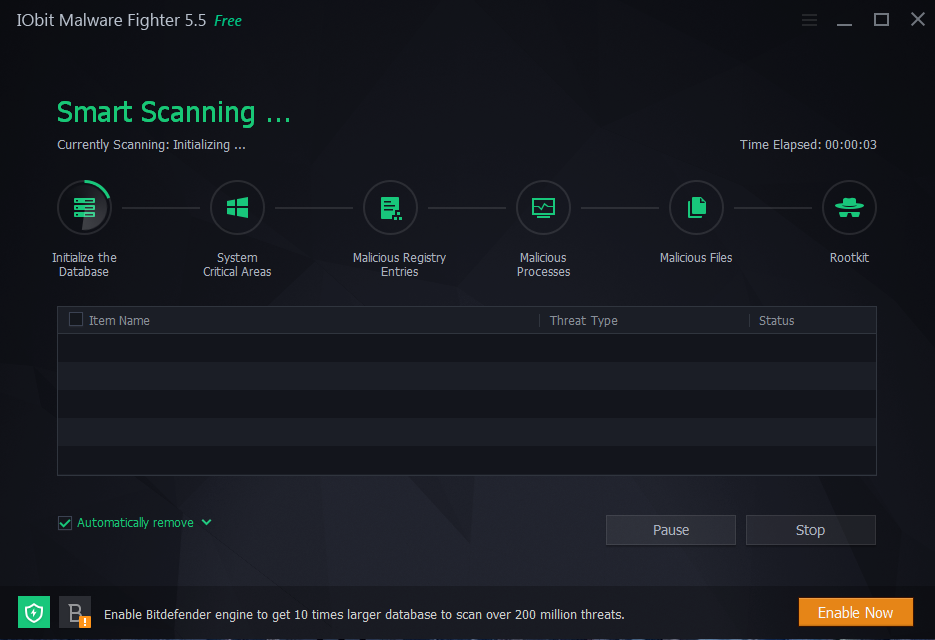 Two effective ways to uninstall IObit Malware Fighter
Two different ways will be mentioned in the section to help you fully remove IObit Malware Fighter from PC, check it how to do now.
Step 1: Close IObit Malware Fighter if it is running
Always remember to exit the running app firstly when you do anything to it, just in case something happens to stop the removal. Try to use the following way to quit the target from working:
Right click on the program icon in the system tray, select Exit.
The program will ask for your further confirmation about the Exit action, click OK.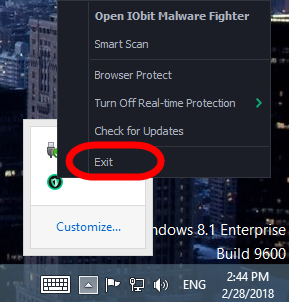 If it doesn't work, try this:
Launch the Task Manager by pressing Ctrl +Alt +Delete, shut down all the process of IObit Malware Fighter in the list, and then click End Task to close all the running processes.
I. Manually Remove IObit Malware Fighter – Difficult & Time costing
1. Remove it from Programs and Features
Head to Start Menu > Click Programs and Features.
Then you will turn to Programs and Features window
From there, find the IObit Malware Fighter you want to uninstall and click on it.
You should see an "Uninstall" button show up at the top of the pane.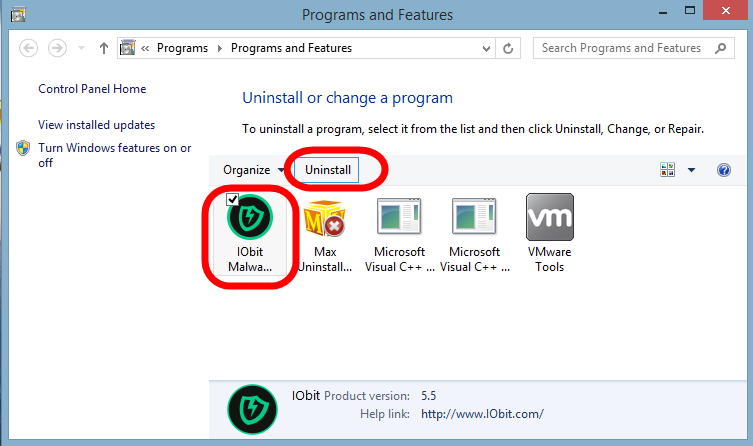 Click on that, and it'll open up that program's uninstaller.
Hit Next, and when it finishes, the program will be removed from your system.
Close the pop-up website once the standard removal is finished. Click Yes to continue the removal, then check all three options to fully remove its leftovers;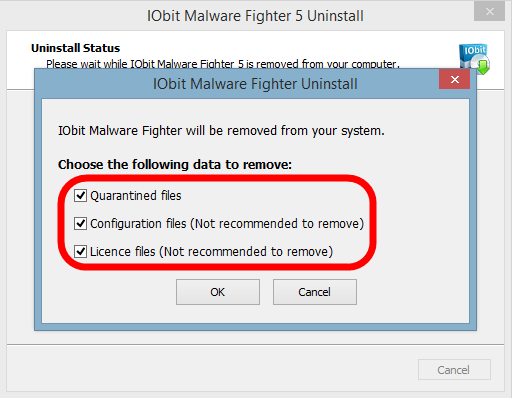 2. Remove it with unisn000.ex
In addition, the VilmaTech suggests users to remove their product from own uninstaller, so you might also remove IObit Malware Fighter with unisn000.ex from installed folder.
Go to the installation folder of IObit Malware Fighter.
Find uninstall.exe or unins000.exe.
Double click on its uninstaller and follow the wizard to uninstall IObit Malware Fighter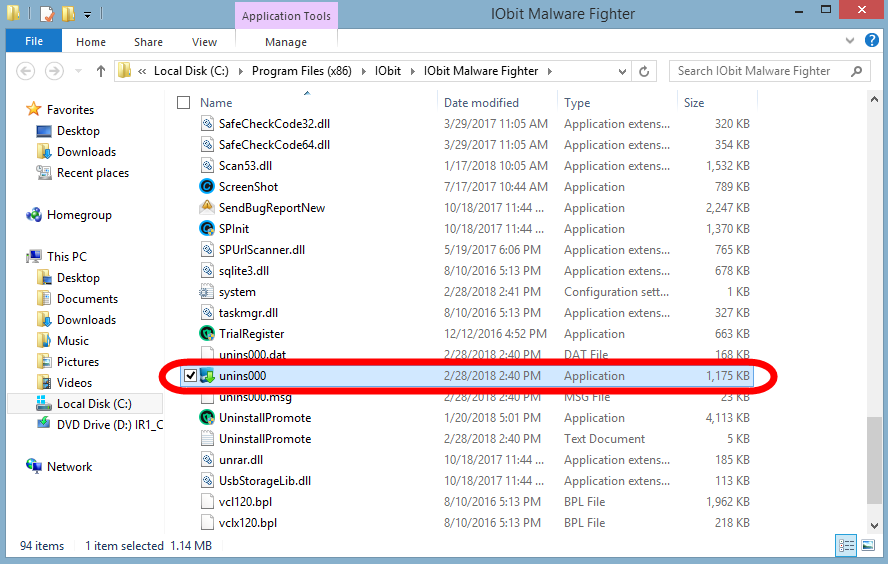 3. Clean up the leftovers in system
If you want to expunge every last trace of Startup Control Panel from your system, follow the instructions here to clean IObit Malware Fighter entries remain in your system registry:
Click on the Start button and then click Run
Type in regedit into the Open: field. Then click on the OK button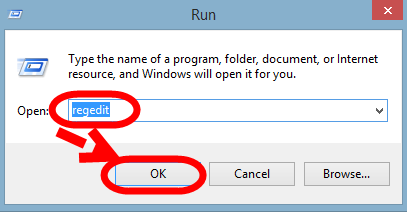 Press Ctrl +F to launch the search box.
Type the key words IObit Malware Fighter to search all registry files;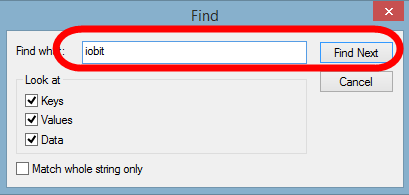 Delete them once they appeared by right-click then choose Delete;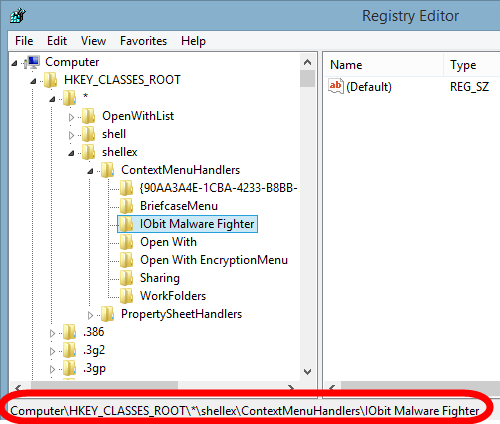 Until all five folders have been cleaned up;
Reboot now/later the computer to take effect.
II.Using Automatic Uninstall Tool – Easy & Fast
If the manual methods cannot help solve the problems & errors that stop you from carrying on the removal, or you simply want an easier solution, Bloatware Uninstaller is definitely your best choice. Try to follow the tutorial here to completely remove IObit Malware Fighter in couple of minutes.
1. Try to download &install professional uninstall tool here;
2. Watch the complete video to learn the whole process to uninstall:
Subscribe BU Channel to watch more software removal videos
3. Uninstall steps: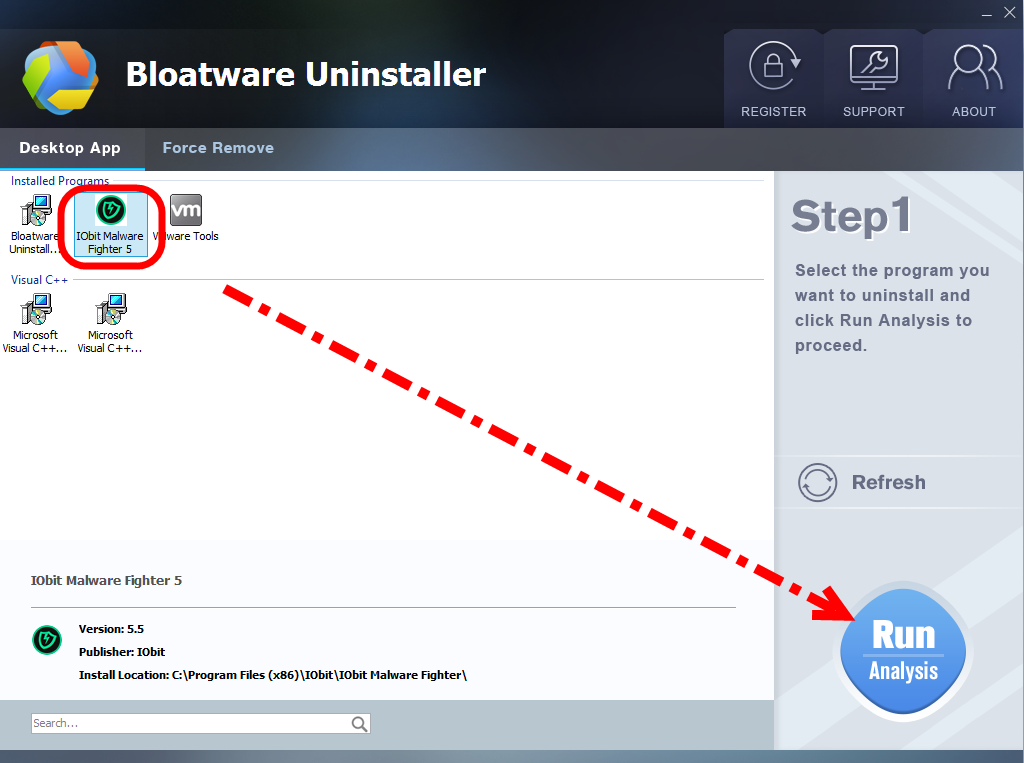 Select IObit Malware Fighter in program list and click 'Run Analysis' button.
After the components analysis, click 'Complete Uninstall' to start the standard removal.
Close the pop-up website once the standard removal is finished. Click Yes to continue the removal, then check all three options to fully remove its leftovers;
Click OK to reboot immediately to automatically delete leftovers;
Back to Step 3 when complete the restart, and then click 'Delete Leftovers' and it will remove all the leftovers it found.
Click OK in the pop-up message to finish the removal.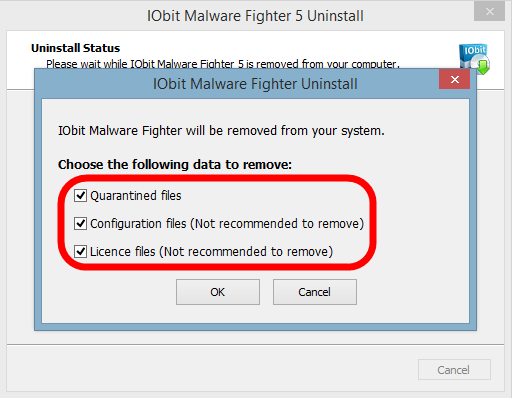 Now this program has been removed from your system without leaving any trace. If you ever encounter problematic software/application/program/game which is hard to remove, just this removal tool on computer, it will solve your problem within a couple of clicks. Any problem to remove IObit Malware Fighter please leave a comment bellow.