Tutorial: How do I Completely Uninstall µTorrent from My Computer?
"I would like to remove all references to µTorrent from my computer. Even after removing both the program and µTorrent Control_version2, they continue to show up in my browsers. Can you please provide a method for complete removal, including perhaps registry keys I need to delete, if necessary?" By papajim46 asking some question about "How do I completely uninstall µTorrent from my computer?"

So today is all about the tutorial page of how should users uninstall µTorrent completely from Windows systems?
If you have the problems with µTorrent removal during operating in PC, pay more attention to these:
Cannot find µTorrent does not appear in in Uninstall Programs list
Do not have access to uninstall µTorrent
Warned to reinstall µTorrent before uninstallation
Asked to download some kind of suspicious program in order to install µTorrent
An error has occurred. Not all of the files were successfully uninstalled.
Files and folders of µTorrent found in hard drive after the uninstallation.
…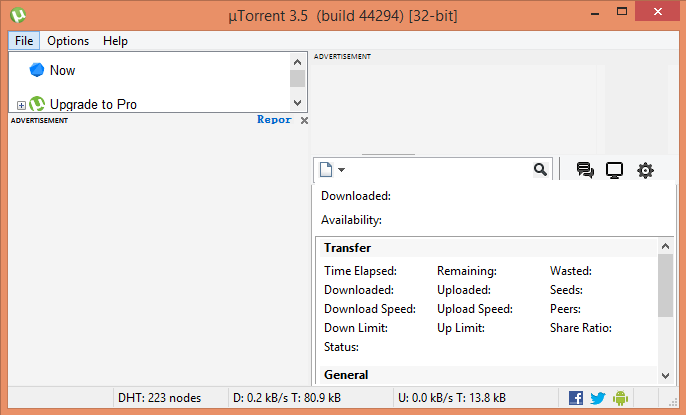 Once those problems happen during your removal, you need to find a much proper way to handle with µTorrent uninstallation, now follow the tutorial to completely uninstall µTorrent step by step.
µTorrent is a freeware, closed source BitTorrent client by BitTorrent, Inc. It's the Software Developed for Downloading Large Amount of Files. It's a peer-to-peer file sharing protocol used for distributing large amounts of data.
Proper Ways to Uninstall µTorrent from PC
There could mutable ways to help uninstall µTorrent from computer if you know about them all, but if you don't, read this page for more knowledge on how should properly remove µTorrent once and for good.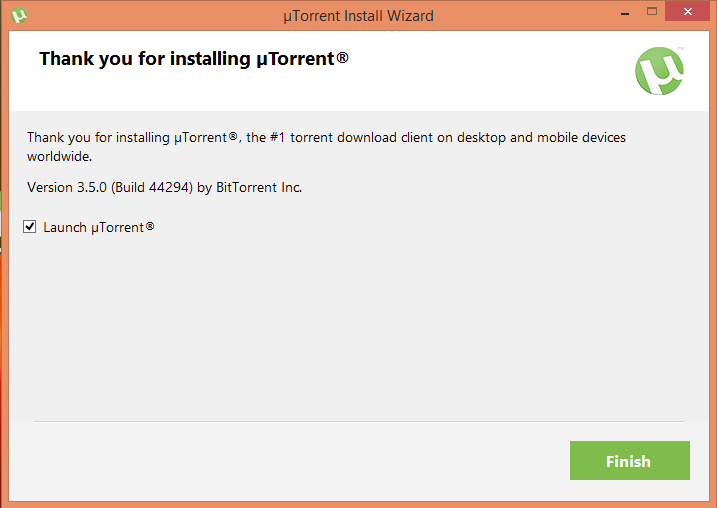 Eliminate µTorrent from Programs and Feature list (move to next part if it isn't in it)
First of all, the manual way to uninstall µTorrent in Control Panel (now Programs and Features) has been known and used by most people who have a Windows. Let's took a look on how to eliminate any unwanted software with this method, if the target µTorrent doesn't appear in the list, you can try the convenient & fast approach to safely uninstall µTorrent.
1. Reboot your PC into Safe Mode (optional)
In order to ensure all your files &data on computer is safe, enter your computer to Safe Mode before begin removal;
2. Exit related processes before removal
This is the necessary to exit all processes with µTorrent if it running or hiding background, just to make sure everything goes smoothly but successfully;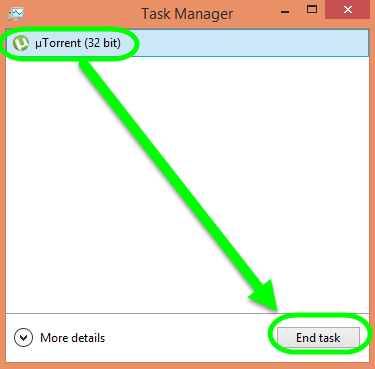 3. Delete µTorrent from Programs and Features
Now you may launch the Programs and Features to uninstall µTorrent:
On Windows Vista and Windows 7
Click Start, type uninstall a program in the Search programs and files box and then click the result.
On Windows 8, Windows 8.1 and Windows 10
Open WinX menu by holding Windows and X keys together, and then click Programs and Features.
>>Next, Click the µTorrent icon in the list ofPrograms and Features window, and then click Uninstall to initiate the uninstallation.

>>You may go through some process steps to perform the removal in computer, just make sure you click the right button to give authorization, such as Uninstall;

>>After all of that, you will receive a finish massage of µTorrent uninstallation performance.
>>Reboot your computer.
4. Delete registry files of µTorrent
This is not done in manual approach, but follows the step to clean all registry files of µTorrent, which is quite important to thoroughly get rid of an app from computer.
In Windows 8/.81:
Press and hold Windows key + C on your keyboard, select Search and enter "regedit" in the input field to open the Registry Editor.
In Windows 10:
In Search box near Star menu, execute "regedit" to open the Registry Editor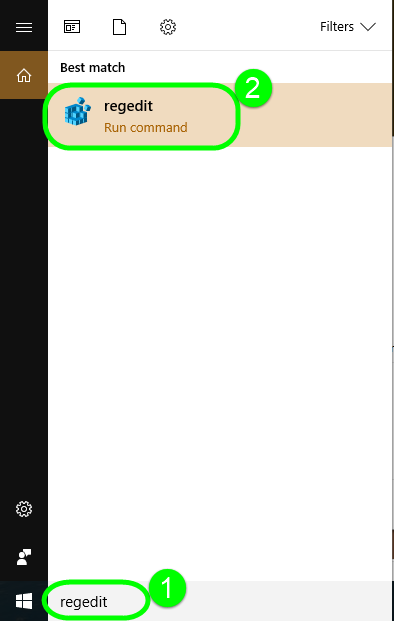 >> On the navigator of the Registry Editor window, clickEdit > Find…, and search for "µTorrent / BitTorrent"

>> Delete the target file once it has been searched out;

>> Repeat the same steps in Searching and deleting registry files in all FIVE folders;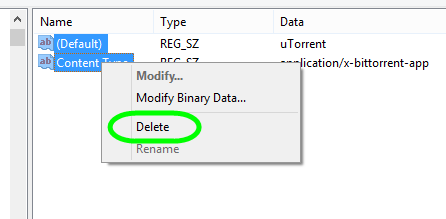 >> Finished when the dialog popup saying "finishing searching";
>> Restart your computer. Then you can choose to check whether your target has been successfully eliminated.

Fast Way to Uninstall µTorrent with removal tool
Users can also try this removal tool in Windows XP/Windows Vista/Windows 7/Windows 8.1/Windows 10 (32bit&64bit) to completely &thoroughly uninstall µTorrent in some simple clicks. For those who are always have problems in removal, we sincerely recommend to try this remover on to have a clean uninstallation in PC.
In Bloatware Uninstaller, the app analysis µTorrent and scan all its leftovers in automatic process within a short time, is quite easy to operating for all users.
Getting start, you must follow the instruction of BU to fast remove µTorrent step by step below:
Step 1: Select target program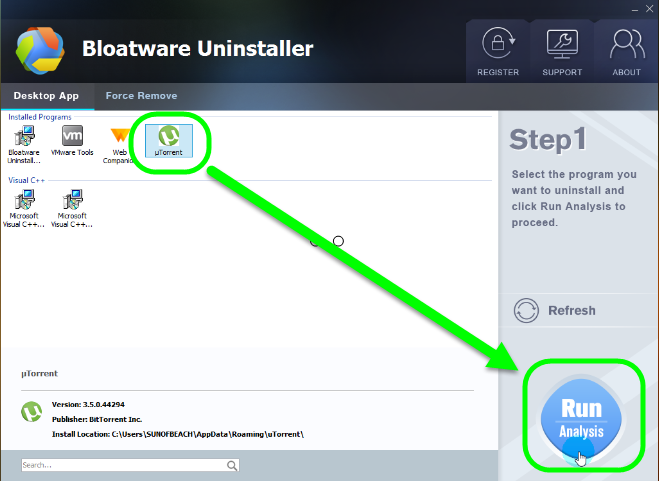 Launch Remover firstly, and then easily select the target (µTorrent) you want to get rid of from computer, and click Run Analysis;
Step 2: Scan related components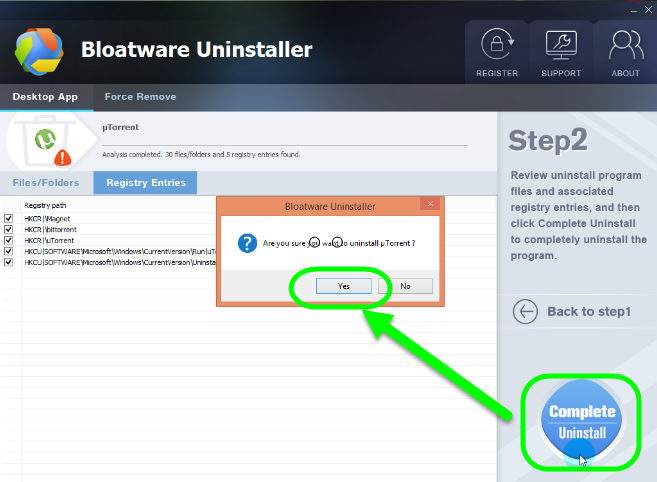 Then move to step 2 by clicking "Complete Uninstall" to conduct the regular removal of scanning files/folders, then click Yes to delete all leftovers scanned in uninstaller;
In this part, removal tool will easily help you remove µTorrent in a short time by all automatic process, so you might click Yes, OK, and Next to allow the removal performance.

Step 3: Removal succeed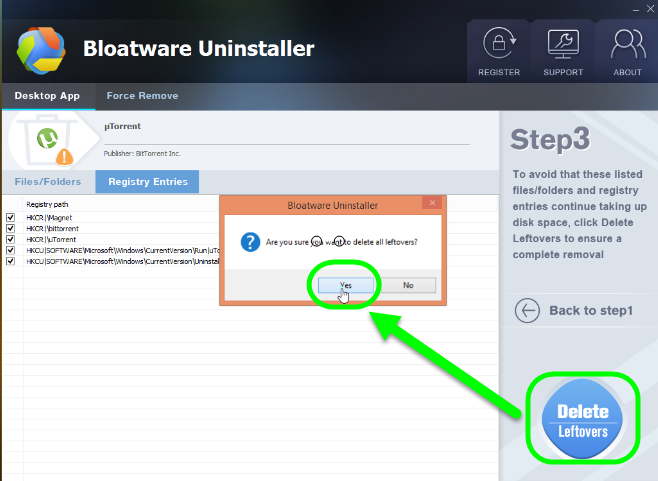 Click "Delete Leftover" to make sure you want to eliminate all files/folders and registry entries of µTorrent.
Launch µTorrent on desktop again, you'll find it pop up a dialog with confirmation of µTorrent removal, check the option "Remove Settings" and click OK to finish removal, then µTorrent icon on desktop disappear from your eyes.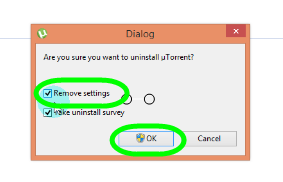 Congratulations, you have successfully uninstalled µTorrent all together with its components from your device.